Last week torrential rains hit Southern Malawi. To date it is estimated 175 are dead and 250,000 have been displaced by flood waters. There are dramatic pictures and an official appeal. Concern Universal is becoming increasingly involved in the official response and recovery work.
For us the major subsequent inconvenience has been highly erratic water and electricity supply. Most days one, other or both are off for a number of hours. We have been fortunate with only having to go for 3 days without water before the taps worked again. For many in the city it is weeks. Whilst the strong winds and rain did not affect conventional buildings, for those that work in our compound the story is very different.
We visited Ali at his house and viewed some of the damage in his neighbourhood. This is (informal) suburban Blantyre.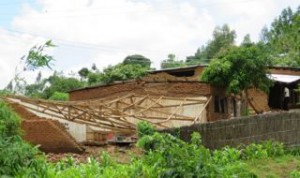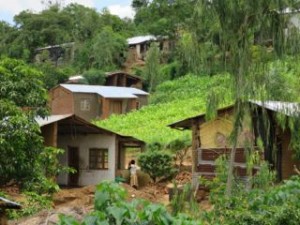 Whilst we encourage donations to the official appeal, we have decided to run a collection from those that live in the compound for these ten and their families. Our intention is that on Sun 8th we will run a 'participatory budgeting' process where these ten would decide on who to allocate whatever money was raised. Should you feel so inclined you also could send some money to my PayPal account martinbutcher@mac.com. Contributions can be small e.g. $2. These guys monthly wage is $70 p.c.m and anything makes a difference.