A wonderful characteristic of European cities is the layers of history piled on top of each other. Modern technological on top of Renaissance art on top of medieval piety on top of Roman paganism. Here in Malawi it seems to all exist at the same time, right now, in real time.
On a regular basis I see what I'm sure most medieval towns in Europe really looked like, complete with the wealthy picking their way carefully through the mess, or more usually ploughing through it in their (4WD) carriages. Religion is evident in all forms, from pious pilgrims to a non-stop evangelical form of renaissance.  At every step there is something that causes wonder and perplexity.
I have just watched a guy making deliveries to the office. From his truck he fully loads a wheelbarrow, but there is a step which, on every trip, causes something from the load to fall off. Each time he stops, picks up the (often damaged) carton or packages, and lifts and pulls the wheel barrow from the front over the step. On the fourth trip the wheel barrow is full of cans
of paint. It hits the step and a can falls off, breaks open and splashes paint around. He first puts the broken pot back on the wheelbarrow before deciding that might not be such a good idea and makes vague attempts to wash the paint splashes off his trousers. Leaving the large splodge of paint on the concrete, he then pushes the wheelbarrow into the office with the wheel making white dashes on the carpet down the corridor. Nobody blinks.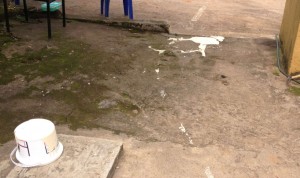 My colleague says that there is no culture of learning within Malawian society. Perhaps he's right, or perhaps it is a charge that can be levelled at every culture and it is more about what is important to who. Either way, it all certainly adds to the colour of life (and office!).