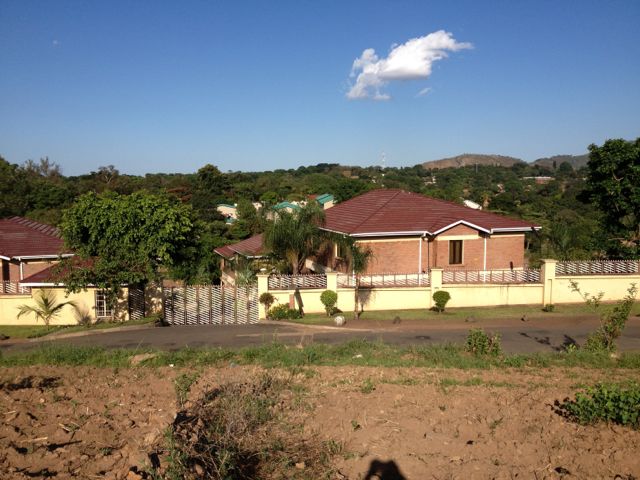 The 'hood.
No.s 1 & 2 vacant
#3: Esadu: from Ethiopia working for World Vision, it is not a family posting. He has mentioned that he is lonely and would like to chat. Haven't managed that yet.
#4 Us:  Debs and Helen will be arriving next week.
#5 : A family from South Korea. I have not met them yet as they are on leave, returning in a few days
#6 George: from the Cameroons, CEO of a bank. His wife sometimes visits, but according to his house boy she has a good job back in the Cameroons.
#7 CEO of MTN, one of the largest telecom companies in Malawi. I think he lives there on his own, but he does have his own 24hr guard at his house. I haven't met him yet.
#8 Andrew: From Ghana. He is the Manager of the ECO bank in town. He is here with wife  Elizabeth and their small daughter. They also have a house girl who I think lives in the house with them.  She cleans the cars almost every other day.
#9 A lady from South Africa. I'm not sure why she is here.
#10 Vacant
I still find the security issue hard to understand, if it ever can be understood. We have a high wall topped with four strands of electric fence all around the compound, guard (and friends) on the front gate and grills on all the windows, and deadlocks on every (including interior) door. A lot don't work properly. The AVI security advisors suggest locking the doors etc. constantly. However just over the other side of the gully is a very similar development (with green roofs) with no guards on the front gate (which is permanently open) and not much of a wall around it. The AVI security people also say that if you do get robbed, it will be the guards who have done it.
Another paradox is that (apart from road deaths – 3000/yr) the most dangerous aspect of living in Malawi is malaria. But there are no insect screens on any windows.